About This File
- deutsch und englisch umschaltbar in einer Bedienoberfläche
=================================================
HERE ARE THE CURRENT VERSIONS:
EVOLV - enhanced theme with elementary mode - Evolv
SQUAPE - enhanced theme with elementary mode - Squape
STATTQUALM - enhanced theme with elementary mode - StattQualm
SILVER - enhanced theme with elementary mode - EVOLV+LVE+Squape in one theme selectable
=================================================
- silver and  black versions are also available!
- too many details to list them; You will discover them in daily use and you will love them ...
The following logo combinations are available:
- BLACK: Evolv_or_SQ_switchable
- SILVER: Evolv or LVE_switchable
- SCARLET PASSION: Evolv_or_LVE_switchable
Thanks to Tortuga for the fantastic background graphics!
The "K.I.S.S.-Mode ON" mode addresses inexperienced users and is very simple,
the "K.I.S.S.-Mode OFF" mode is aimed at experienced users who want full control over their mod ...
(some screens may have changed)
wolke-101 hat hier einen sehr anschaulichen Beitrag zu den Unzulänglichkeiten des TC-Modus geschrieben - spannend.

PLEASE NOTE - REPLAY IS FOR COIL MATERIAL "Watts" PROVIDED, NOT FOR SPECIFIC WIRES!
It works of course - but not in the sense of the developer ... 
The functions for REPLAY are only enabled after activation if the coil is REPLAY-capable.
BITTE BEACHTEN - REPLAY IST FÜR COIL-MATERIAL "Watts" VORGESEHEN, NICHT FÜR SPEZIFISCHE DRÄHTE! 
Es funktioniert natürlich - ist aber nicht im Sinne der Entwickler... 
Die Funktionen für REPLAY werden nach Aktivieren nur freigegeben, wenn die Wicklung REPLAY-fähig ist.
---
What's New in Version
INT_2.0_SP20_BLACK_1
See changelog
Released
INT_2.0_SP20 _BLACK_1:
- new Performance Screen (only K.I.S.S.-Mode OFF)
- new coil setup screen
V45: Final Version with Escribe INT 2.0 SP19
- changed, clean arrangement of the coil setup screen
- K.I.S.S.-OFF-Mode: New Atomizer Screen links to the coil setup screen instead of just confirming a new coil
V44:
- Adjustments to the date and time display
- subtle changes in the layout
- THERE ARE ONLY TWO THEMES NOW;
CALLED "SILVER" AND "BLACK"
- in both the logo can be changed on the lockscreen,
the basic setting is the Evolv logo
- alternatively the SQUAPE or StattQualm logo is displayed, but only in profiles 1 to 4 (in profiles 5 to 8 the Evolv logo is always displayed)
- THE "STATTQUALM" THEME IS UPDATED ONLY ON EXPRESS REQUEST (FEEDBACK)!
____________________________________________________________
V41:
- BUGFIX IN THE CONFIGURATION OF LOCKSCREEN AND MAINSCREEN
- BUGFIX BATTERY WARNING LESS THAN 10%
(in this context, I would like to remind you how important feedback is ...)
- small menu and screen adjustments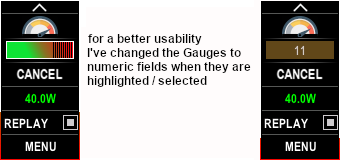 With version INT_2.0_SP20_BLACK_1:
2

1