About This File
Tailormade themes for private use are available on request for almost every brand in almost every color
- deutsch und englisch umschaltbar in einer Bedienoberfläche
- too many details to list them; You will discover them in daily use and you will love them ...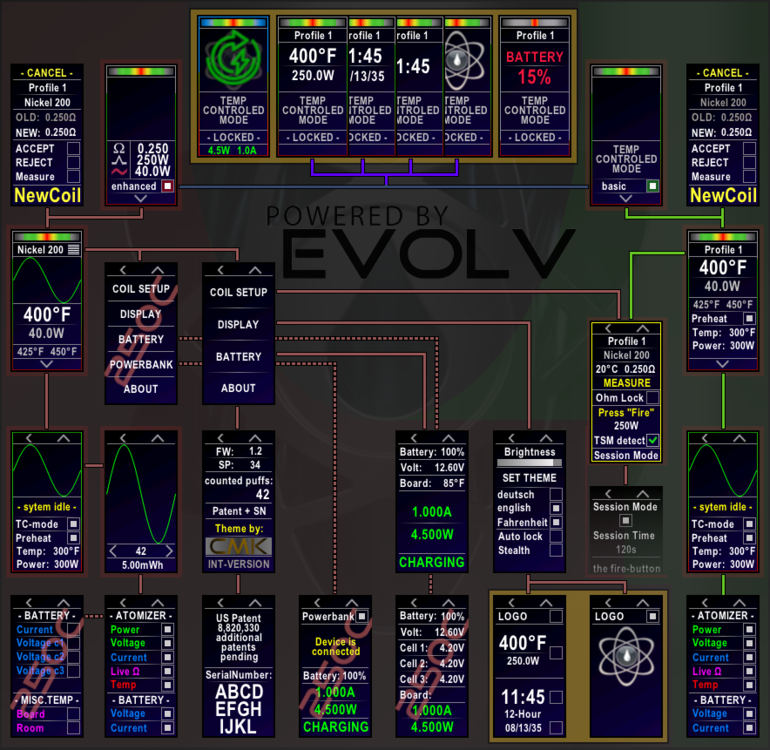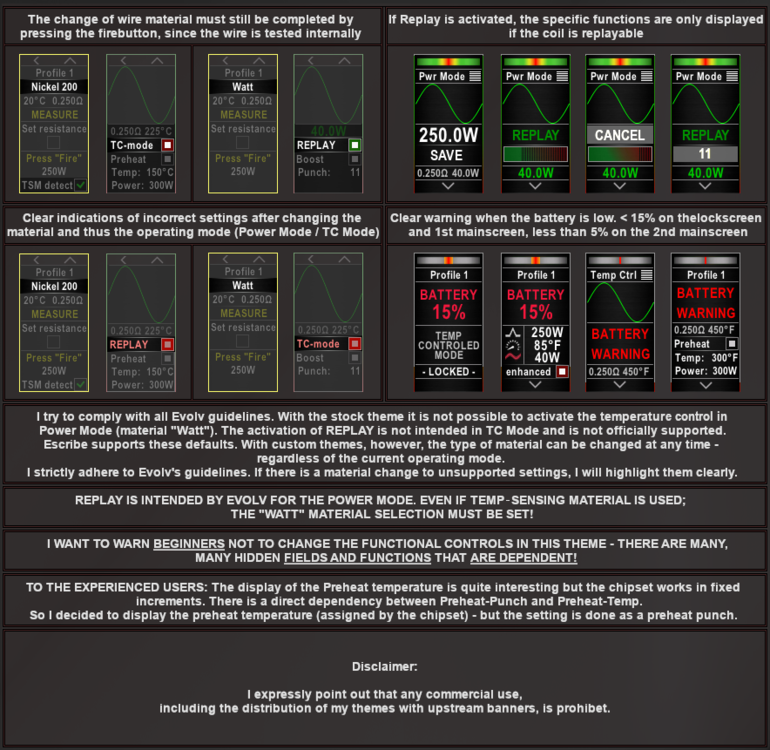 +
Description_for _translation.txt
If someone is interested in a version with a brand logo / background according to their own wishes - just leave a comment and I'll see if it can be implemented.
See also my other Themes:
Edited by CMK aka gwyar
new description
---
What's New in Version
10/09/2022 02:52 PM
See changelog
Released
TC mode:
Enhanced mainscreen - the target temperature can now be changed by highlighting the average performance of the last puff.
Veröffentlicht 5. November:
TC mode:
Even if I continue to take the position that the direct, numerical input of the preheat temperature does not make sense, based on user feedback I have created the possibility to choose between direct, numerical input and the previous preselection of the preheat temperature as a punch.
When preselecting via Preheatpunch, the temperature is preselected in 11 fixed steps, the level of which is determined by the chipset based on the TC target temperature. The existing preheat time is much too short for a more precise temperature control.
Veröffentlicht 24. Oktober
- all versions: smallest detail corrections and changed 12/24 hour changeover
- "silver" version: corrected background
Veröffentlicht 22. Oktober
After the theme has developed and grown for more than 2 years, I have now set it up from scratch with a slightly changed layout.
Some small weaknesses in detail could be remedied in this step.
As long as no problems are reported to me, as long as Evolv does not bring a new chipset with new possibilities (instead of fewer) onto the market, as long as I consider this development to have been successfully completed.
Veröffentlicht 12. Oktober
- Detailed work and bug fix in the temperature warning, this has been repositioned (even if it will hopefully never be seen by anyone)
- New layout of the battery screen, better adaptation to the number of cells used
V7xx2.8: REPLAY control no longer in accent color green, but follows the normal color scheme in the sense of better readability in a bright environment
(the old version 7xx2.7 with accent color remains available in the download area
With version 10/09/2022 02:52 PM: