About This File
- deutsch und englisch umschaltbar in einer Bedienoberfläche
- too many details to list them; You will discover them in daily use and you will love them ...
- SCARLET PASSION:
Thanks to Tortuga for the fantastic background graphics!
PLEASE NOTE:
The change of wire type must still be completed by pressing the firebutton, since the wire is tested internally
- The gradation of the power setting is of course adapted to the performance
- all protections against erroneous settings (eg Temp-Protect in power mode), as usual from my enhanced themes
- REPLAY can be activated/enabled if the coil is REPLAY capable, and the (material type -> watts (as provided by Evolv)) i.e. Do not a put a TC material type at all in that profile box
- If replay is activated, the specific functions are only displayed, if the coil is replayable
In addition to the battery indicator in the upper area of the screen, the entire display is framed by a charge level indicator.
If the battery level is less or equal to 5%, a clear warning appears.
______________________________________________________________________________
TO THE EXPERIENCED USERS: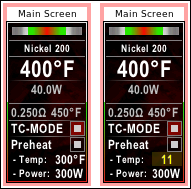 The display of the Preheat temperature is quite interesting, and the chipset works in fixed increments.
There is a direct dependency between Preheat-Punch and Preheat-Temp.
So I decided to display the preheat temperature (assigned by the chipset) - but the setting is done as a preheat punch.
See also my other Themes:
______________________________________________________________
Disclaimer:
I have permission from the companies "DOVPO®", "Stattqualm®" and "Vapor Giant®" to use their protected logos for private use.
I expressly point out that any commercial use, including the distribution of my themes with upstream advertising banners, is prohibited.
Haftungsausschluss:
Mir liegt die Erlaubnis der Firmen "DOVPO®", "Stattqualm®" and "Vapor Giant®" zur Verwendung ihrer geschützten Logos für den privaten Gebrauch vor. 
Ich weise ausdrücklich darauf hin, dass jegliche kommerzielle Nutzung, dazu zählt auch die Verbreitung meiner Themes mit vorgeschalteten Werbebannern, untersagt ist. 
______________________________________________________________
In EVERY version you can choose between 2 different logos within the theme, or the time / date can be displayed instead of the logo.
Edited by gwyar
---
What's New in Version
V6.1
See changelog
Released
Comprehensive update completed:
- visual improvements
- - better readability
- new colors
- new logos