About This File
Supports DNA250c and DNA75c, and Replay on both of those chips. Now you can choose from two different UI from the settings page. 
You need the latest international firmware 1.1 SP33.2 INT (included with EScribe Suite 2.0 SP15) on your DNA75c for it to work.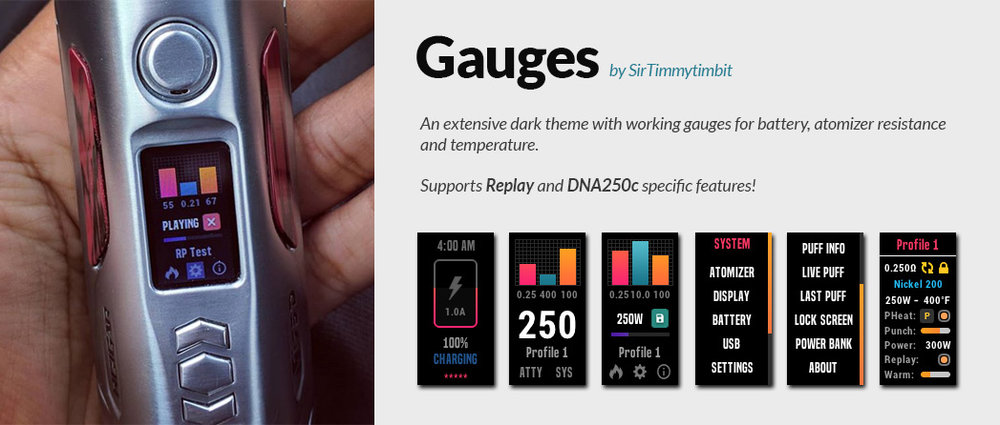 Note:
The status messages, like temp protected or atomizer short etc. are only displayed when firing.  
Press the fire button to exit the menu or any other page that doesn't have a back button.
I hope you guys like it!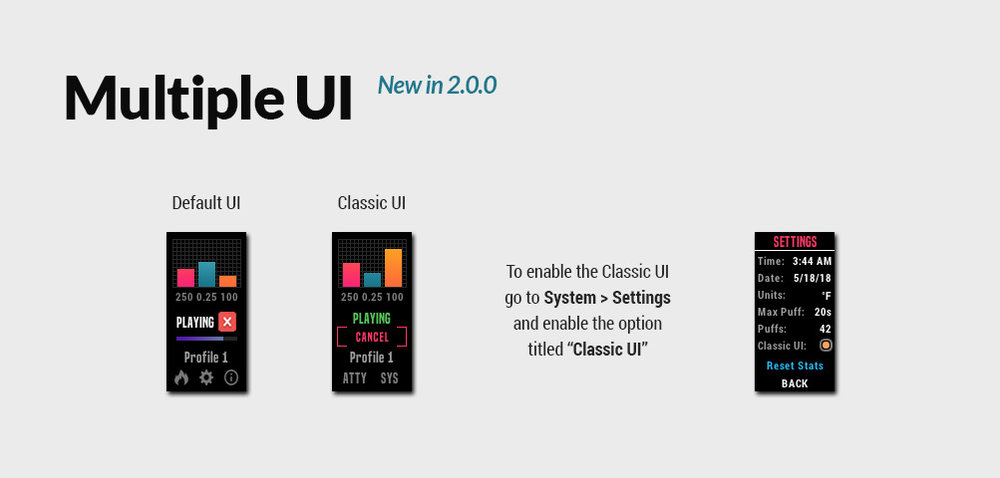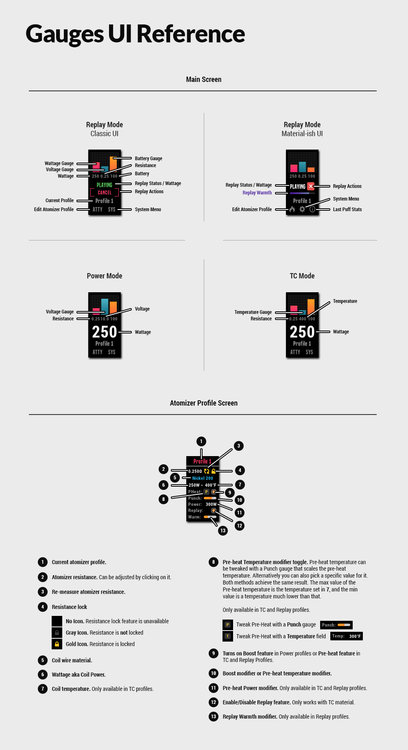 Also check out my other themes: 
---
What's New in Version
2.2.0
See changelog
Released
You can use replay now with any coil material.
What's New in Version 2.1.0
Enable/Disable replay from the Atomizer Profile screen. Forgot this one from my to-do list.
Major version 2.0.0 - Everyone should update!
There has been a lot of new development in the recent weeks. This is a major update and everyone should update, especially anyone running 1.5.0 or lower. 
The theme incorporated two main screen UI since 1.6.0. Material UI has been made the default UI, and the old UI is now called Classic UI. You can enable Classic UI from the settings.
Lock screen now shows the charging/power bank current when plugged in. There is also a new gauge when using the mod as a power bank.
Atomizer Profile and New Atomizer Detect screens have been majorly overhauled. You can fire from the Atomizer Profile screen again.
Atomizer Profile screen now lets you adjust the Pre-heat power.
On the Atomizer Profile screen you can adjust the Pre-heat temperature either via a Punch gauge or via a Temperature field. You can switch between them with the new toggle. For more information see the UI reference picture below.
Atomizer lock feature is now available in all types of profiles. Previously it was only available in TC profiles. This decision was made because EScribe lets you lock resistance in any profile, and sometimes it's necessary to lock the resistance in mods with a spotty 510 connection.
Bugfix: Mystery click from "coil power" to "cancel replay" while replaying has been eliminated.
Various other tweaks throughout the theme.
What's New in Version 1.6.1
USB connection status added to lock screen. Thanks @retird
What's New in Version 1.6.0
Gauges now has two different UI for the main page. I've incorporated elements from the Material-ish themes on to the Gauges theme. Thanks @BlindBuck for the idea! 
You can enable the Material-ish UI elements by going to System > Settings and enabling "Material-ish"
Minor refinements of the various gauges and variables on the main page. 
What's New in Version 1.5.0
DNA75c now supports replay!
DNA75c now supports replay with the new international firmware 1.1 SP33.2 INT. As such I no longer need to maintain two separate versions of the theme. You can flash the same Gauges 1.5.0 theme file on both DNA250c and DNA75c.
You have to have 1.1 SP33.2 INT firmware flashed on your DNA75c device for this theme to work.
Made a few compatibility related tweaks.