About This File
Several modifications keeping the overall default Evolv theme look.
Main screen "Firing" now red when firing as well as all menu or status bars.
On main screen when not in active Replay saved puff you can select the ohm reading to shortcut you to the Coil Info screen.
Settings changed to Menu for new menu / settings platform
Most "Back" buttons removed and scroll up of down off the screen to go to the previous screen.
Watts now adjustable in 1 watt increments instead of .1.
Temp adjustable in 5 degree increments.
New menu platform dived into Profile, Puff Info, Coil Info and Settings on main menu.
New coil install screen now has cold ohm temp for new coil and old coil resistance and temp when deciding on new coil or keeping old settings.
Profile Menu has added cold ohm temp with current ohm reading and coil material setting added. Also added is the availability to have advanced preheat settings with the Preheat+ toggle when temp control is active.
Puff Info screen enhanced with chart and ability to change wattage and or temp for dialing in a perfect puff. Also the addition of several live readings of the last puff. Live ohms, room temp,average power, puff duration, puff volts, puff amps, and average puff temp, and max puff temp when in temp control. When a non-temp sensing coil is installed gives you current battery % instead of temp.
Recording Screen with new additions to be able to monitor with every puff.
New Coil Info screen added with time, battery %, current profile, coil material, cold ohms, live ohms, coil temp, ability to remeasure resistance, and ability to lock ohms.
New settings menu with System, Display, Device, and About.
System gives you date, time, 12 / 24 hr, F or C temp, max puff time and serial number.
New Display menu has brightness adjustment, always on, stealth level, auto lock, auto lock time out, and # of clicks to lock, and ability to set unlock device sequence.
Device screen now has power bank settings, and battery voltages for up to 4 batteries.
About Menu with Lifetime puff count, Theme revision,  current firmware, current revision, edition, current puff count, puff count total energy, and reset to take you to a rest statistics screen.
Thanks to everyone on the Evolv forum for ideas and themes to give me inspiration for this theme!
Evolv Default Enhanced 250C.ecigtheme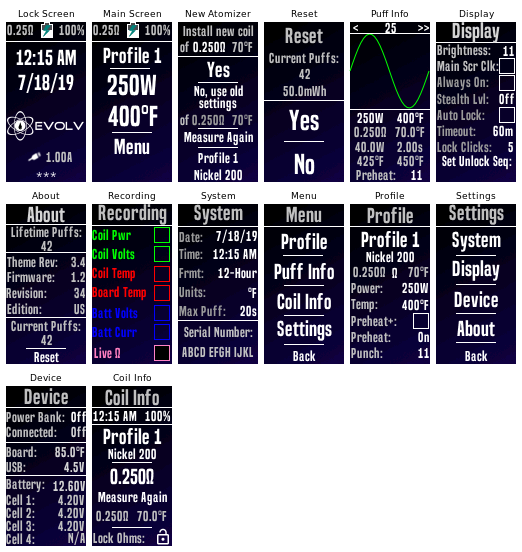 ---
Released
New Version 2.2
Fixed Temp highlight issue on Puff Info screen
Added ability to change watts in Replay on Status screen
Evolv Default Enhanced 250C.ecigtheme
New Version 2.1
Further appearance adjustments overall.
Added ability to change unlock sequence to display screen
Evolv Default Enhanced 250C.ecigtheme
New revamped Version 2.0
Overall visual improvements and better refinement with removal of redundancies across screens.
Back buttons added back to Menu and Settings with round robin scrolling as it just seems more functional.
Added coil material to Profile and Status Screen for those who want custom profile names.
Profile screen now has a lock ohms option if needed.
Removed ohms measurement on Status screen as it can be done on Profile screen.
Device screen is a complete makeover now with power bank settings as well as individual battery voltages for up to 4 batteries.
About screen changed lifetime energy to lifetime puffs. Reset now takes you to separate reset screen to prevent accidental resets.
Reset screen added with current puff info, yes or no to reset, and reset counts.
Evolv Default Enhanced 250C.ecigtheme
New Version 1.6
Added punch / preheat in place of the status bar on the Puff Info and Status screen to better help dial in the perfect puff.
Added USB / Computer connection logos to the lock screen along with current charging amps when connected to either one.
Spaced time and date fields on the lock screen for a little better visual effect.
Evolv Default Enhanced 250C.ecigtheme
New Version 1.5
Further refinements to theme
Grayed out non-selectable options on Status, Puff Info, and Profile screens
Added Puff volts and amps to Status and Monitor screens when not using temp control
Evolv Default Enhanced 250C.ecigtheme
New Version 1.4
Fixed Puff Info screen to accommodate larger puff counts
Evolv Default Enhanced 250C.ecigtheme
New version 1.3
Fixed a couple of temp readings to read only.
Evolv Default Enhanced 250C.ecigtheme
New version 1.2
Fixed a few bugs and misaligned fields.
Let me know of any problems encountered please.
Evolv Default Enhanced 250C.ecigtheme
With version 2.2: