About This File
The iOS Theme. Available in 4 COLORS.
Recently Updated  to 2.1
Made with extra care from scratch, I'm happy to give you The iOS Theme!
The iOS Theme supports Replay on both DNA 75c and DNA 250c boards. This theme utilizes everything a DNA color board has to offer.
This creation was inspired when i saw that big beautiful battery icon of an iPhone while i was vaping. I wanted that for my mod ASAP... and thus my creativity journey begun. Hope you enjoy the result!
Enjoying this theme? You can always help me out with a PayPal donation!
Available Colors:
*Colors are based on the default wallpapers for iPhone XS, XS Max and iOS12
   iOS12:                       Space Grey:                       Silver:                               Gold:
Main screens:
Temperatute Control (TC):                                         Replay:                                         Regular Wattage mode:
Icon Menus:
     Phone:                                              Safari:                                          Messages:                             iTunes:
Swap Time for Battery %:
Advanced Live recording options with color mapping:
Battery info for up to 4 batteries:
Credits to Apple and their iOS graphics team for the inspiration.
---
Released
iOS Theme 2.1 Changelog:
Battery Icons now provide 100% accuracy and are visually representing the battery level perfectly.
You can now control Replay warmth from the main screen when Replay is active. The audio volume bar represents the warmth. All replay graphics were re-designed from the start to include that. Spent a couple of full days working on that for all 4 themes (fml). Replay On/Off toggle icons are now white instead of Grey, matching the iOS philosophy.
Wattage is now adjusted by

0.5 when below 20W

 and by

5 when above 100W

. Everything between 20 and 100 watts is still adjusted by 1. Was trying to find a middle ground for MTL and DTL vapers for a long time, turns out i could just do that. Important: You need to register a wattage number below 20 or above 100 to adjust the watts by 0.5 or 5 accordingly. Example: If you go from 25 to 10 watts it will be adjusted by 1. If you go from 10W to 25W it will be climbing by 0.5.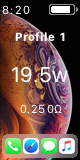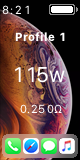 TC screen

now displays wattage smaller in size. Temperature remains the same size and is now the focus of the screen (as it should be).
Some fields have moved around a bit and the "Profile" space is now slightly bigger. These are small unnoticeable changes overall to improve the aesthetics of the main screen.
Personal note: A revamp of the iOS Theme is coming soon (as a separate theme). Keep an eye out!