About This File
Based on the "Evolv Default Enhanced 250C Theme 3.5" from JMat76, I created this SILVER version.
In addition to a few small graphics changes, I have modified the lockscreen and mainscreen - but it can be switched to the original look.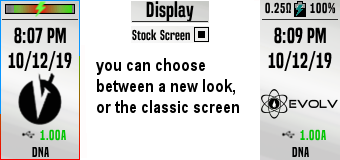 In the following I quote directly the theme description from the author JMat76:
- Several modifications keeping the overall default Evolv theme look.
 -Main screen "Firing" now red when firing as well as all menu or status bars.
- On main screen when not in active Replay saved puff you can select the ohm reading to shortcut you to the Coil Info screen.
- Settings changed to Menu for new menu / settings platform
- Most "Back" buttons removed and scroll up of down off the screen to go to the previous screen.
- Watts now adjustable in 1 watt increments instead of .1.
- Temp adjustable in 5 degree increments.
- New menu platform dived into Profile, Puff Info, Coil Info and Settings on main menu.
- New coil install screen now has cold ohm temp for new coil and old coil resistance and temp when deciding on new coil or keeping old settings.
- Profile Menu has added cold ohm temp with current ohm reading and coil material setting added. Also added is the availability to have advanced preheat settings with the Preheat+ toggle when temp control is active.
- Puff Info screen enhanced with chart and ability to change wattage and or temp for dialing in a perfect puff. Also the addition of several live readings of the last puff. Live ohms, room temp,average power, puff duration, puff volts, puff amps, and average puff temp, and max puff temp when in temp control. When a non-temp sensing coil is installed gives you current battery % instead of temp.
- Recording Screen with new additions to be able to monitor with every puff.
- New Coil Info screen added with current profile, coil material, cold ohms, live ohms, coil temp, ability to remeasure resistance, and ability to lock ohms.
- New settings menu with System, Display, Device, and About.
- System gives you date, time, 12 / 24 hr, F or C temp, max puff time and serial number.
- New Display menu has brightness adjustment, always on, stealth level, auto lock, auto lock time out, and # of clicks to lock, and ability to set unlock device sequence.
- Device screen now has power bank settings, and battery voltages for up to 4 batteries.
- About Menu with Lifetime puff count, current firmware, current revision, edition, puff count total energy, and reset to take you to a rest statistics screen.
Also take a look at my own Themes, 
especially Enhanced 2 in 1 "LOST VAPE" - Four colors
Edited by CMK aka gwyar
---
What's New in Version
10/25/2021 10:44 AM
See changelog
Released
For a change, I've refreshed the design - out of respect for the author, I still haven't changed the functionality of the theme; it just works.