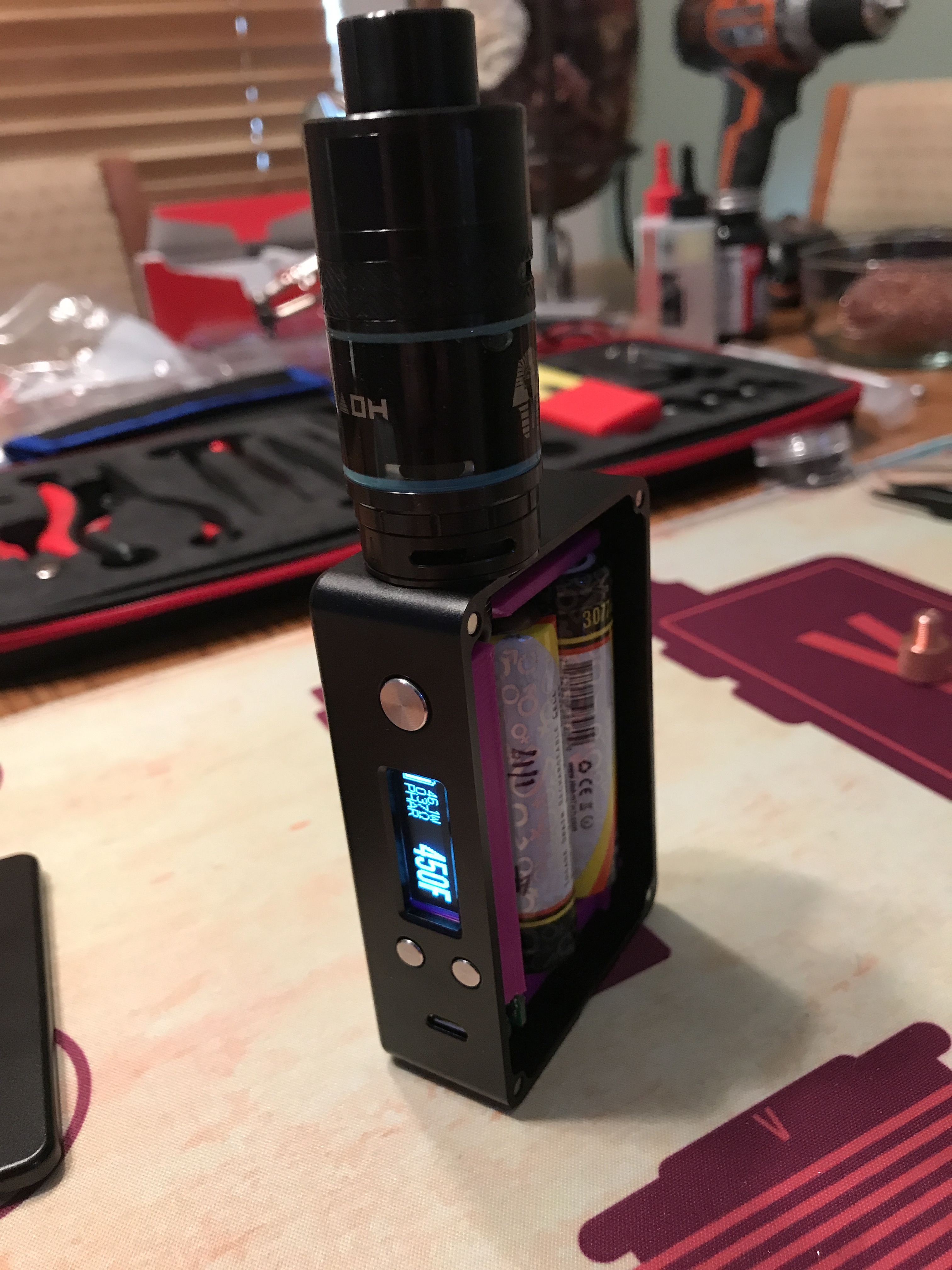 Content count

14

Joined

Last visited
Community Reputation
7
Neutral
About Jasonvillamil
Rank

Member


Birthday

October 5
Personal Information
Full Name

Jason Villamil

Location

USA

What DNA product do you own or plan to buy?

Axis Vapes M17 DNA250, Therion DNA75C, hand-made DNA250
Confirmed that upgrade to the international Windows Escribe version and v2.0 SP6 firmware has been running for several days without issue. Loving the boost functionality as well1

Be sure that the field Source is Coil Temperature. Click Options, and set the Step Size to the desired increment: Hit OK, and be sure to Apply the theme, and upload the changes to your mod.

You can use the theme editor to select the wattage text field. Modify it and you can then change the increment.

Peraspera, you can use the Therion out of the box, but earlier versions did come uncofigured at default settings. If you're going to use Ni or Ti, the safe bet would be to review the material and Mod tab settings in Escribe first. If you only have a Mac, you could run Escribe in a virtual environment. I posted a fully configured Therion settings file to the download section of the forum as a starting point for mod safety limits if need be. As far as firmware goes, the stock firmware is fine, though I'd recommend the beta from the "ohms too low" thread, as it helps to correct the resistance measurement which is needed for accurate temp control.

@67exec I'm assuming you're seeing this in the Profile field, above the wattage / temp+wattage fields on the main screen? Not exactly sure how this is possible, as that field is assigned to display the selected profile Name. and not coil material. Did you check your profiles in EScribe to ensure they're named properly? Check that when you get a chance, and maybe try applying the new v1.7 theme just uploaded and see if that helps.

@James I've had a day with the beta and performance is definitely much better. Tested two single coil builds against my two DNA250 mods and the beta DNA75C, and the resistance readings are spot on. This with 0.004 internal mod resistance as measured, and the 250's set with their own respective internal resistance. I did some testing with room temp, and believe that the 75C only seems to update room temp after the mod goes to sleep, or after a reboot. This explains the big jumps I'd mentioned earlier: I'd watch room temp sit at 73 degrees, vape a bit and then let it sleep, with room temp never changing. Picking the mod up ten minutes later then showed a refresh, which would bring room temp way up, as obviously the mod is much warmer after having been used recently. I tried the default profile's thermal settings, but room temp is way off when cold; I decided to instead stay with my results averaged with @ndb's results, and room temp is pretty close to actual when the mod is truly cold. I think what also helped a lot is reducing min and max room temp to a narrower band, 60-90 degrees. Note that after vaping a bit, room temp will always hit the max ambient 90 degrees if I let the mod sleep or do a soft reboot. However, the vape has still been very good, having left the cold ohm reading when the mod was actually cold and room temp was true. So, much, much happier so far with the DNA75C running the beta firmware! Will try another build this evening and will update if anything weird happens. Key settings for reference if anyone else wants to try the beta and wants a reference point: SS316L: Curve set at Stem Engine CSV curve Therion internal mod resistance: 0.004 Case thermals earlier in this thread Min ambient of 60, max ambient of 90

James, Trying out the provided v1.1.SP22 Beta 1 service pack. Cold ohm reading jumped 0.013 ohms on the first coil tried, and the vape is definitely better. Had to drop TCR for SS316L down from Daniel's 0.001 to 0.00094 to keep from a burnt taste. I'm wording what is new in this firmware release? Was an offset entered in firmware, or something else? Should we be dropping our TCR back down to published resistivity for stainless? On another note, I've experienced over the last few days that the 75C's cold ohm reading and quality of vape in TC mode greatly depends on the associated room temp reading on the board when the cold ohms were measured. The problem is that I've seen the Therion room temp reading vary greatly, from 65 degF all the way to 88 degF, even when sitting still in a level 73 degF room. I've taken to reading cold ohms, then manually setting the recorded room temp to whatever the board happens to be showing as room temp at the time to get it consistent. Any ideas on this? Thanks for the beta firmware and input!

Shinn, I experienced the same issues as you at first. The Therion comes with default reference settings unfortunately, which means it basically needs to be fully configured before it will give you a good vape. To start, you need to run the Case Analyzer. Set the mod on a table, make sure batteries are about a quarter to a half charged, try to measure the surrounding temp, and let the analyzer run. Be sure to upgrade to the latest version of Escrive first to make sure you don't get an error when you upload the settings. You can optionally attach an atomizer to better represent the full thermal dynamics as when you vape. That will greatly fix the cold resistance readings and room temp reading. I'd also recommend manually re-reading cold ohms every time your atomizer is cold; this is what the other DNA chips do, and wish the 75C did. There are many more settings to configure, such as input and output currents, battery profile, internal resistance etc; I actually just posted a copy of my Escribe settings for this mod, fully configured, to the downloads section of the forum; once approved, take a look for some of these settings in my file if need be. If you'd like a copy now, just let me know. Hope this helps!

Version 1.2.1

1,878 downloads

This is a fully configured Escribe settings file for the new Lost Vape Therion DNA 75C. The mod basically came unconfigured at the stock board settings which was surprising. This config file has been meticulously configured, and includes the following highlights: All 8 profiles configured, with: 3 temp control profiles for favorite atomizer and build combos. My go-to is the Pharaoh RTA as the primary profile, plus the Crown III and the SMOK Baby Beast for emergencies while traveling 5 power-only profiles, at presets of 40, 45, 50, 55 and 60 watts Includes my posted DNA 75C Enhanced Default Theme v1.4 which greatly expands the stock theme's capabilities Two SS316L materials, one curve and one TCR set at 0.00094 Mod fully configured: Battery Analyzer run for dual HohmTech Life 3000mah 18.04wh 18650's Cell Soft Cutoff set to lower limit of these 18650's at 3.13v to protect the batteries Input currents set for battery safety based on Mooch's test results Output currents set at DNA 75C spec sheet typical rating Mod internal resistance measured with copper plug at 0.004 ohms Case Analyzer run at 73 degF ambient, averaged over 3 runs Hope everyone enjoys!

Results from Case Analyzer for Lost Vape Therion DNA 75C: Case Cooling Time Constant: 155.84 s Case Heating Time Constant: 317.27 s Case Static Temp Rise: 10.47 degF Case USB Connect Temp Rise: 0 degF Case USB Charge Temp Rise: 23.6 degF/Amp

Ran the case analyzer last night and the resistance measurement is much better. Only tested one build, but the cold resistance now matches what the DNA 250 reads, and the vape is great. I hit the same error in trying to upload right after the analyzer finished, so I just screenshotted the results, restarted Escribe, and plugged in the values by hand which then worked.

I have to say that I'm experiencing the exact same thing, though not as drastic as several tenths of an ohm off. My DNA 250 mods are dead-on when reading cold ohms. I've taken the tank and build directly to the Therion 75C, waited for it to cool, and the cold ohms reading is far too low; around 0.02 ohms off, which makes the vape negligible. I have to manually increase the cold ohms to get it where it needs to be. From what I can tell, the 75C is different from the other boards in that I think it's compensating the cold resistance by the ambient room temp. That being said however, the room temp reading on the mod is way off; 10 degF or greater. Wintergreen, would you mind sharing the results of your case thermal analysis? Has your experience gotten any better on reading cold ohms after running the case analyzer?

Version 2.2

2,342 downloads

This is an enhanced version of the stock default DNA 75C theme. A lot of changes and some new screens, exposing the full capabilities of the chip, while keeping with the stock look and feel. Priority and care were given to make this theme as clean, functional and intuitive as possible. Hope everyone enjoys!