About This File
Welcome to ICONIC. Based this new menu system around icons so more information/options can be had in a smaller space. There are now 2 spaces on the main screen that you can configure to show 4 different options each.
Works on the 250c and the 75c main screen is fully integrated to show wattage, Temp Control and replay. it comes in three colours blue, indigo and red. download the one you want or all of them.
---
What's New in Version
1.0.2
See changelog
Released
Changed the Lock screen to be centred. Changed a couple of labels that were wrong or the wrong size. Moved a few items around to make it look better.
Released theme in Green and also Black. Other colours available on request, or post me a background you want on it and i'll do it for you. Or.... eScribe and do it yourself !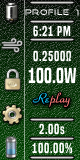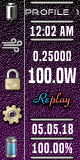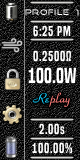 Weird mistake on the blue theme corrected! 
With version 1.0.2: