About This File
I have reduced the functions to the absolute minimum; no clock, no date, no nothing ...
The navigation is simple - screen exit down round robin and exit up to lock the device.
The result: no shuffling through menus and submenus - just vaping and everything you need is on exactly one screen!
The following screenshots are from my basic themes for dna75c / 250c - just for vaping V3.1; are however fully implemented in a customized design:
PLEASE NOTE:
The change of wire type must still be completed by pressing the firebutton, since the wire is tested internally
- The gradation of the power setting is of course adapted to the performance
- all protections against erroneous settings (eg Temp-Protect in power mode), as usual from my enhanced themes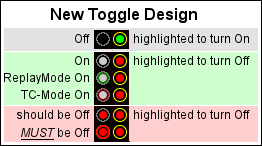 -the functions for REPLAY are only enabled in power mode (as provided by Evolv) and only after activation if the coil is REPLAY-capable.
- if replay is activated, the specific functions are only displayed, if the coil is replayable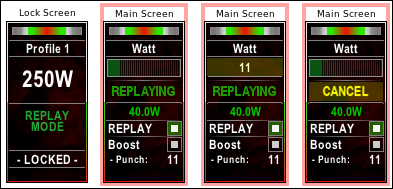 ______________________________________________________________________________
TO THE EXPERIENCED USERS: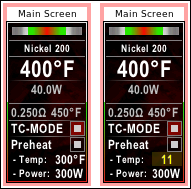 Well, the display of the Preheat temperature is quite interesting, but to set this directly seems pointless, since the chipset works in fixed increments.
As far as I interpret the behavior correctly, these steps are dependent on the set target temperature, as well as the exceeding of the TC target temperature in Preheat is not possible - even if the direct temperature input suggests something else. There is a direct dependency between Preheat-Temp and Preheat-Punch.
So I decided to display the preheat temperature (assigned by the chipset) - but the setting is done as a preheat punch.
Should someone explain to me in an understandable way that my explanations are wrong, I will go back this step, of course.
---